Become the most skilled ninja in the land!----description
The Ninja Juice is the last potion in Clumsy Ninja.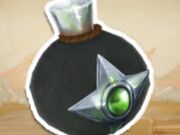 The Ninja Juice is unlocked at level 50 and this potion costs 250,000 coins.
This potion is very rare as it gives you lots of XP. This potion does not give you any coins. The Ninja Juice causes the ninja to be highly skilled.
Each dose of this potion can earn 8,000 XP.
This rare potion costs 30 gems to buy.
This potion is unlocked and bought at level 50.
You can earn these from the Gold Mystery Box.
If you play as Kira, the potion doesn't affect her much, because she had access all of the move Clumsy need to unlock
This is the rarest and the most expensive potion to buy overall