In-Game Description-Try tying a balloon to the ninja's foot.
The fiery balloon is the first balloon to be unlocked and can be found in the rack in the Ninja Kit. The fiery balloon is the first out of the balloons and gives 10 XP for every balloon you pop. Surprisingly, it just costs 10 coins for a packet of 3 balloons! This balloon is a red balloon that you can use for your ninja. Try tying it to your ninja's legs hands or even training items or animals! The fiery ballon itself could give more than 10 XP.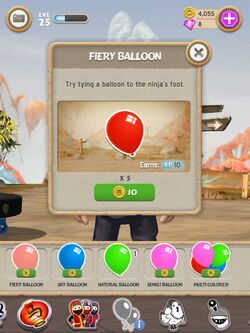 These balloons can help a lot, for example, it can help the chicken fly!
Balloons can be used for different things.
You can get a fiery balloon from the Gold Mystery Box! However, it will earn 2000 XP instead.